Evacuated regions - ESG

Since the B1 Dam rupture, in Brumadinho, we have adopted more conservative standards in the assessment of our dams. Therefore, we are responding to the earliest sign of interference in the territories, conducting preventive relocations or emergency evacuations when recommended. As aware of the consequences of these actions, we are dedicated to improving people's life quality in order to restore, as well as possible, the prior conditions.

The benefits of the Compensation and Development Plans are already being seen harvested.

As part of efforts alongside governments and the communities affected by emergency evacuations and preventative relocation, as well as public construction and renovation projects, we are continuing to invest in projects aimed at strengthening local social organizations, diversifying sources of income, and providing incentives for new areas of business. Additionally, we are maintaining our commitment to increasing safety within the community, intensifying preventative and corrective measures, and the monitoring of our structures.


Municipalities with evacuated or preventively relocated communities:

Sul Superior Dam, Gongo Soco Mine (Level 3 emergency)​

Initiatives package ​
It is now time to put the initiatives established by the Compensation and Development Plan's committee through an expansive public consultation process carried out in 2020 into action. More than R$40 million will be invested in the areas of education, health care, infrastructure and urbanism, economic development, sport, the environment and waterways, tourism, culture, public safety, and social assistance. An additional R$30 million will be invested in the municipality based on dialogue with the local government and the community, bringing the total of investments to R$70 million.
The committee for Barão de Cocais's Compensation and Development Plan is made up of representatives from the community, government, educational institutions, the municipality's commercial association, and Vale.

The following section contains all of the work and initiatives that are planned:
1.


Education
Job Market Preparation Program (PPMT) + Carrer Hub;

Installation of Qualifications Centre Professional in Gastronomic Practices - Kitchen School in Barão de Cocais;

Support for Renovation of Brazil Open University University (UAB);

Donation of 60 computers for renovation of UAB's information technology laboratory;

Pedagogical Assistance Program;

Support of renovation of municipal schools.
2.


Economic Development
Study on economic diversification for Barão de Cocais;

Supplier Development Program;

Programa de Desenvolvimento de Pequenos Empreendimentos;

Program for identifying and valuing the region's cultural elements;

Horizonte Project.
3.


Health
Support for construction of Centre for Specialized Medicine (CEM) and Physical-Motor Rehabilitation;

Support for construction, renovation and aquisition of equipment for 10 new ICU beds in the Municipal Hospital;

Support for Volunteer Search and Rescue;

Health Cycle Program.
4.


Environment and waterways
Support for structuring of municipal landfill;

Program for strengthening the Catadores (Weste Pickers) Association and promotion of awareness in society;

Improvements to Soledade Farm.
5.


Public Safety
Support Implementing the Olho Vivo ('Life Eye' Project);

Support for Civil Police;

Apoio à implementação da Guarda Municipal.
6.


Social Assistance
Value Program;

Plan for Strangthening Social Participation;

Social Protect Program.
7.


Culture
Support for bulding of multicultural complex;

Support for reopening of Fernando Toco Museum in Cocais;

Support for requalification of Sobrado do Cartorio heritage site in Cocais;

Support of renovation of Capela of Nossa Senhora da Aparecida Church in Barão de Cocais;

Criando Caminhos (Building Pathways) Program.
8.


Sport
Support for athletic organizations;

Support for expansion and renovations of Central Multi-Sport Facility;

Support for completion of sports complex in the Dois Irmãos neighbourhood.
9.


Tourism
Georeferencing map of serras (Mountain ranges) of Grimpo and Cambotas with support for adventure tourism;

Revitalization of entrance to Cocais;

Support for building of Entre Serras Tourism Support Centre (CAT) in Cocais (Gold Circuit);

Support for building of Tourism Support Centre (CAT) in Cocais.
10.


Infrastructure and urbanism
Support for the building of an exhibition park;

Renovation and revitalization of town squares;

Implamentation of Mobility Plan.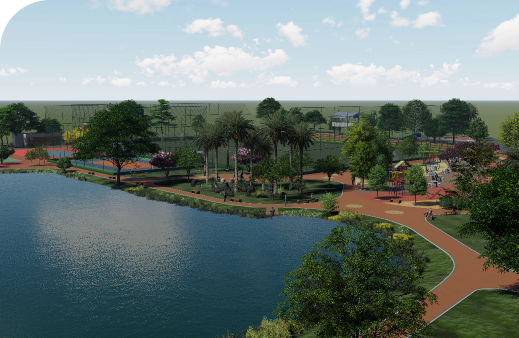 Perspective of the reformed Lagoa Square
Renovation of Praça da Lagoa square

Residents of Barão de Cocais will soon be able to enjoy a completely renovated Praça da Lagoa square. The project includes renovation of the soccer field, multi-sport exercise court, open-air gym and metallic overhead walkway, as well as the installation of a drainage and irrigation system, the building of a playground and new press seating, improvements in public lighting, the replacement of seats, and landscaping.

Organs involved
The Municipality of Barão de Cocais ​
The Chamber of Councillors
Crochet course for ZAS residents, in the Living Space
Social activities
Until very recently, learning how to paint, embroider and crochet was merely a dream for Maria Aparecida Brito, resident of Vila do Gongo. After participating in workshops offered by Casa do Artesão (Artisanry House), she now plans to even sell her work. Maria Aparecida participated in the first cycle of social activities for residents of the evacuated communities of Socorro, Piteira, Tabuleiro and Vila do Gongo, which provided a total of 350 training sessions. The second cycle began in August. Activities are carried out in partnership with Casa do Artesão, Projeto Sementes (the Seed Project), and with the NGO Juventude Viração (Youth for Change), and are held in the Community Space, which was renovated and restructured in 2020.
Projeto Aprender (Project Learn)
Training for communities located in the ZAS (Self- Rescue Zone) for the Sul Superior dam began in November and is provided in partnership with the Yara Tupynambá Institute. Professional training courses in the areas of gastronomy, esthetics, gardening, and beginner English were developed based on requests from residents and using the results of a social diagnostic completed in 2019. The courses include processing of family farmed products, traditional quintada mineira (pastries and confections from Minas Gerais), decorated cakes, hair cutting and styling, and manicures and pedicures.
Meeting with residents of Barão de Cocais to explain the process
Downgrading of state of emergency
The building of an Upstream Containment Structure (ECJ) located 6.8 km from the Sul Superior dam has provided increased safety to the Barão de Cocais's urban areas. With these changes, workers present at the seven gathering points were cleared to leave and three ambulances for attending to injured individuals, as well as eleven emergency vehicles, were decommissioned with approval from the Municipal Civil Defense.
The ECJ will also allow families evacuated from Vila do Gongo that have not yet received compensation and are interested in returning to their original residences to do so. Residents will only be able to return to their homes after the updated version of the Emergency Mining Dams Action Plan (PAEBM) for the Sul Superior dam, is reviewed and validated by the competent authorities (currently scheduled to take place in May 2022). The process will involve direct dialogue with residents and will respect their preferences.


Organs involved
Reduction of emergency level at Sul Inferior dam ​
In June, the Gongo Soco mine's Sul Inferior dam had its emergency level reduced from 2 to 1. The change, which attests to the structure's increased safety and stability, is the result of corrective work carried out on its slopes. The improvements were monitored and validated by the technical consultants in charge using international standards.
Doutor dam, Timbopeba mine (Level 1 emergency)​
Aerial view of Antonio Pereira
Progress made by the committee
Meetings of the Compensation and Development Plan's committee, which is made up of representatives from the microregions of Antônio Pereira and Vila Antônio Pereira, the government and Vale, began with a reception aimed at bringing representatives together before moving on to installation of the committee. Finally, they had with meetings for establishing criteria for analysis and prioritization of improvement initiatives brought forth at the public consultation held in 2020.
During this phase, the ten themes established at this meeting are being discussed: health care, infrastructure and urbanism, tourism, social assistance, the environment and waterways, economic development, social participation, and public safety.
Delivery of the renovated Social Assistance Reference Center (CRAS)
Renovation at Reference Centre for Social Assistance (CRAS)
More than 840 families living in a situation of social vulnerability and that rely on basic social protection services have benefited from the renovations, which were designed to provide increased safety and comfort during the provision of services.




Daura de Carvalho Neto State School delivered to the community
Renovation at Daura de Carvalho Neto State School
Carried out in partnership with the Minas Gerais State Education Secretariat, the project is aimed at providing a high-quality learning environment and increased safety for more than 600 children enrolled.
Fundação Sorria Service Room
Renovation at Fundação Sorria (Smile Foundation)
In order to provide better care, the unit dedicated to the oral health of children and adolescents was completely renovated in order to the improve the quality of existing structures. The project included interior and exterior painting, a review of electrical and hydraulic systems, ceramic finishings in the lunchroom, review and replacement of doors and cupboard spaces, as well as a general cleaning of floors and tiling. Fundação Sorria also received new dental equipment.



Luciene Matias, student leading the Gigantex social project
Trails of Knowledge
Professionals in the area of education and athletics in Antônio Pereira have received new tools for encouraging exercise in schools and other areas within the community. During the next few months, they will participate in training cycles provided as part of the Trilhas do Saber project, which is being developed by Vale in partnership with Sesi-MG (Industrial Social Service of Minas Gerais), with support from the municipality.
The initiative is aimed at promoting sport as a fundamental right, reinforcing its connection to human development through videos and technical manuals, qualifications for project management and the gathering of resources, school mentorship, and strengthening of the connections between families and support networks for children and
adolescents.





Agenor Magalhães, vice president of the Residents' Association of Vila Residencial
Program for Strengthening - Waste Pickers Associations
Waste pickers in Antônio Pereira are receiving technical consultations with regards to increasing their production and management capacity, making it possible to expand their work and corresponding sustainable waste disposal. The project involves the preparation and carrying out of strategic planning, regularization of documentation, training workshops, market studies, plans for innovation and investment, as well as technical support for accounting practices.



Socio-territorial study
In parallel to the development of the Compensation and Development Plan, we carried out a socio-territorial study of the Antônio Pereira district for the purposes of evaluating Vale's actions in the region, as well as to better understand local realities and the expectations of the local population. Relocated residents and residents that have remained in Antônio Pereira and Vila Residencial Antônio Pereira, businesspeople, representatives from the Municipality of Ouro Preto and the Civil Defense, among other institutional representatives all voluntarily participated in interviews.

Signing of the agreement between Vale and the Municipality of Ouro Preto
Health care agreement
In November, we signed an agreement with the Municipality of Ouro Preto aimed at increasing health and psychosocial services in the district. We will put a total of R$ 379 thousand towards the contracting of a multidisciplinary team that includes psychologists, psychiatrists, and social assistance services. We will also provide vans for the transport of service teams and patients.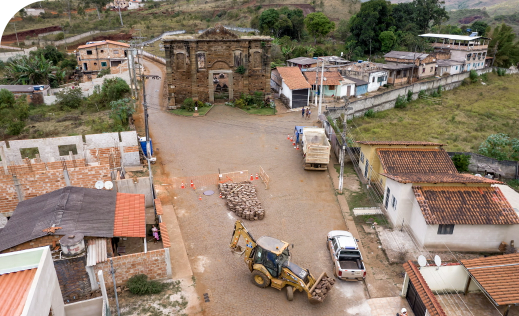 Road repair works in Antônio Pereira
Repair of roadways
As agreed upon with the community, we have completed maintenance work on roads in Antônio Pereira used for vehicle traffic prior to building access roads for initial work in decommissioning the Doutor dam mine. The roads Rua Grande, Rua da Lapa Queimada, and Rua das Flores were all included within the scope of the project. Rua Terezinha Pessoa is still being restored. Work included resurfacing asphalt, replacing sidewalks and drainage services.
Forquilhas Dams I and III, Fábrica mine (Level 2 and 3 emergency, respectively)
Renovated E.M Guilherme Hallais court, delivered in September
Spaces for athletics and education renovated
The return of in-person classes for approximately 2,200 students in Itabirito's public education was full of surprises. In addition to once again entering into physical contact with teachers, classmates, and friends, students found that the spaces in their schools designated for athletics had been completely revitalized. Since July, four schools have had their exercise courts completely renewed, with new lighting, repainting of the floors, installation or renovation of fencing, installation of sports accessories (volleyball nets and posts) and, in some cases, covering installed in the location. Fully renovated, these spaces for leisure and the practice of sports will also be open to the community.


Nossa Senhora do Bonsucesso Basic Unit - Support Unit
Basic Health Care Unit - Nossa Senhora do Bonsucesso
Around 300 residents of the community of Bonsucesso in Itabirito will receive medical care from the nearest public health care service. With a capacity for 32 medical consultations and 12 dental consultations, the Nossa Senhora do Bonsucesso Basic Health Care Unit – Support Unit was delivered to the local population on the 7th of December. The health unit is a type 4 unit, which means it has the infrastructure to hold a minimum of four Basic Health Care teams. The project provides complete access to wheelchair users (PCR) and has a reception area, waiting room, gynecological consultation room, dental consultation room, storage room, lunchroom, dressing room for employees, and an area for the safe disposal of waste, as well as support areas.

Chapel of Senhor Bom Jesus do Matozinhos
Lighting at tourist sights
Between July and August of 2021, we held public consultations during which residents selected the tourist sights in Itabirito that would receive new lighting. Soon these postcard-perfect sights will be even more beautiful. Learn which sights will be lit up and how many recommendations each one received from local residents.
Organs involved
Municipality of Itabirito
Trilhas do Saber (Trails of Knowledge) - sport and leisure
Professionals working in the areas of education and athletics or those interested in implementing initiatives in these areas, are taking part in Trilhas do Saber. The initiative offers, through means of mentoring and training cycles, new tools for encouraging exercise in schools and other areas within the community. Additionally, Trilhas do Saber offers mentoring in schools aimed at providing teachers and other professionals with tools for encouraging good citizenship practices and the internalizing of accountability amongst the community's children and youth. There will even be a stage of the project dedicated to strengthening connections between families and support networks for children and adolescents.
Organs involved
Containment structure of the Forquilhas I, II, III, IV and Group dams
Upstream Containment Structures increase community safety
With 95 metres of height and 330 metres long, project are being restored. The structure, which was completed in May, will increase the safety of those living in nearby communities and protect the dams' Secondary Safety Zones, which include part of the municipalities of Raposos, Rio Acima and Nova Lima, as well as three neighborhoods in Belo Horizonte.
The containment structure was built using the most rigorous national standards, best engineering practices, and technical references from international entities. Vale is continuing to assess the need for supplementary action together with the technical audit from the Public Prosecutor's Office. The delivery of the project is an important step towards fulfilling our commitment to reducing process risks and decommissioning upstream tailings dams. In the case of a rupture of the Forquilhas I, II, III, IV and Grupo dams, the containment structure would act as a barrier preventing tailings from reaching the city's urban area and spreading throughout the local environment, ensuring the safety of individuals, and significantly reducing social and environmental impacts.
B3/B4 Dam, Mar Azul mine (Level 3 emergency)
The ceremony for the beginning of the works took place in September, with the presence of the community and representatives of the Municipality of Nova Lima
Rebuilding of soccer field in Capela Velha
Work to rebuild the soccer field in the Capela Velha neighborhood has begun and will be concluded in the first quarter of 2022. Among the improvements provided under the project are the recovery of natural grass, the installation of lighting, fencing and posts, the installation of a system for drainage and irrigation, the rebuilding of the concession stand and the building of administrative and meeting areas. The project also includes the division of the field into three smaller fields for the futebol society, each accessed individually. Through this project, the space will become a leisure centre prepared to receive athletes and participants in amateur sport of all ages.
Organs involved
Local associations
Municipality of Nova Lima

Perspective of the renovated court of Jardim Amanda
Renovation of Jardim Amanda's exercise court
In October, renovation work began on Jardim Amanda's exercise court. The space will be revitalized, with the fences rebuilt, new lighting provided, and the court and surrounding area repainted. Additionally, part of the old temporary school will be transformed into change rooms and administrative offices. The renovated court was delivered to the community
in February 2022.






Associação Gestora das Águas e Melhorias do Parque do Engenho (Agape)
Parque do Engenho has its water network expanded
n October, residents of the Parque do Engenho Residence in Macacos received the neighborhood's third artesian well. This work expanded the region's water network and was necessary to ensuring that families received their own water for consumption. The action is the result of a partnership between Vale and the Parque do Engenho Water Management and Improvements Association (Agape).
Organs involved

Families return to homes located outside the ZAS
Since August 2021, 43 families in Macacos that were relocated have been able to safely return to their homes. These families retain their right to compensation and the return was possible after a study of the dam's definitive high-water mark concluding that these homes were located outside of the ZAS (Self-Rescue Zone) was completed and presented to authorities.
Relocation had been carried out in 2019 as a preventative measure aimed at ensuring the safety of these families until the definitive water mark was found and reported, actions that were completed in 2020. The feasibility of the return was documented in an agreement entered into with the Public Prosecutor's Office of the State of Minas Gerais, the organ responsible for auditing the study of the dam's definitive high-water mark.
Families living within the ZAS will remain in the hotels, bed & breakfasts, and residences that they have chosen until compensation has been provided. The company is paying all fixed expenses (rent, IPTU - Urban Building and Land Tax - water, and electricity), food baskets, and gas. Committed to providing compensation in a manner that is swift and fair, processes for extrajudicial agreements continue to move forward. Vale makes the Full Assistance Program for Affected People available to all individuals receiving compensation, which offers psychosocial, educational, and financial support, orientations for the purchase of real estate, and for reinitiating production activities. This allows families to plan out their future ahead of new economic and socioenvironmental conditions.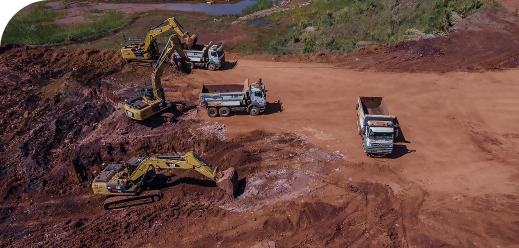 B3/B4 dam elimination works
Learn more about the progress made in decommissioning the B3/B4 dam
The B3/B4 dam, located at the Mar Azul mine, will undergo decommissioning work in which tailings will be completely removed and the area reintegrated into the local environment. In order to guarantee the safety of employees involved in decommissioning projects for upsteam tailings dams, rigourous safety standards have been adopted. One of the initiatives that have been implemented is the use of remotely operated equipment to access the dam area.

Since November of 2020, when the removal of the dam was first underway, we have already taken out more than 800 thousand cubic metres of tailings and waste rock from the dam, the equivalent of 17% of the total materials.

Once the dams have been decommissioned, we will execute a plan for environmental restoration in relation to the containment structure that we installed in Macacos. The B3/B4 project is scheduled to be completed by 2027.

The structure is monitored 24h per day by the Geotechnical Monitoring Centre (CMG). We are continuously working to assess and reduce the impacts of this project, such as switching off and repositioning part of the posts and installing reflectors to reduce light pollution in the surrounding areas, replacing tractors with newer, quieter models, and building an acoustic barrier using waste rock to reduce noise emitted by construction work.


Waste rock pile, Morro da Mina (Level 1 emergency)
Perspective of the new headquarters of the Escola Municipal Meridional
Building of a new campus for the Escola Meridional school is underway
A ceremony for the initiation of work on Escola Meridional's new campus was held on the 21st of September. The project is part of a compensation initiative for the educational community aimed at allowing normal activities to be restarted. The school's students had their lessons suspended as part of preventatives measures in March of 2020 related to the technical assessment of one of the operation's waste rock piles, which is located near the school. Since then, students have been attending classes at a temporary structure built by Vale on the premises of the Centro Universitário Presidente Antônio Carlos (Unipac).
The new facility will be built on a property with an area of approximately 17 thousand m² that was donated by Vale. The project will expand the school's capacity from 650 children to 840 children across two study periods. With a constructed area of more than 8 thousand m², which has been adapted to provide accessibility to all students, the school will have 21 educational spaces, a library, a multi-use arena, resource centres for students with special needs, an art room, nurse's office, two playgrounds, as well as an administrative areas and areas for support and services.