Vale and Petrobras sign Protocol of Intent to accelerate the development of low-carbon solutions
Energy and Steel, Environment
Vale and Petrobras sign Protocol of Intent to accelerate the development of low-carbon solutions
Vale today signed a protocol of intent with Petrobras to develop low carbon solutions, taking advantage of the technical expertise of both companies and their synergies. The partnership is for a two-year period and will assess joint decarbonization opportunities, including the development of sustainable fuels – such as hydrogen, green methanol, biobunkers, green ammonia and renewable diesel - and C02 capture and storage technologies.

The initiative also includes potential commercial agreements for the supply of low-carbon fuels produced by Petrobras to be used in Vale's operations, which could contribute to the company's commitment to reducing its greenhouse gas emissions.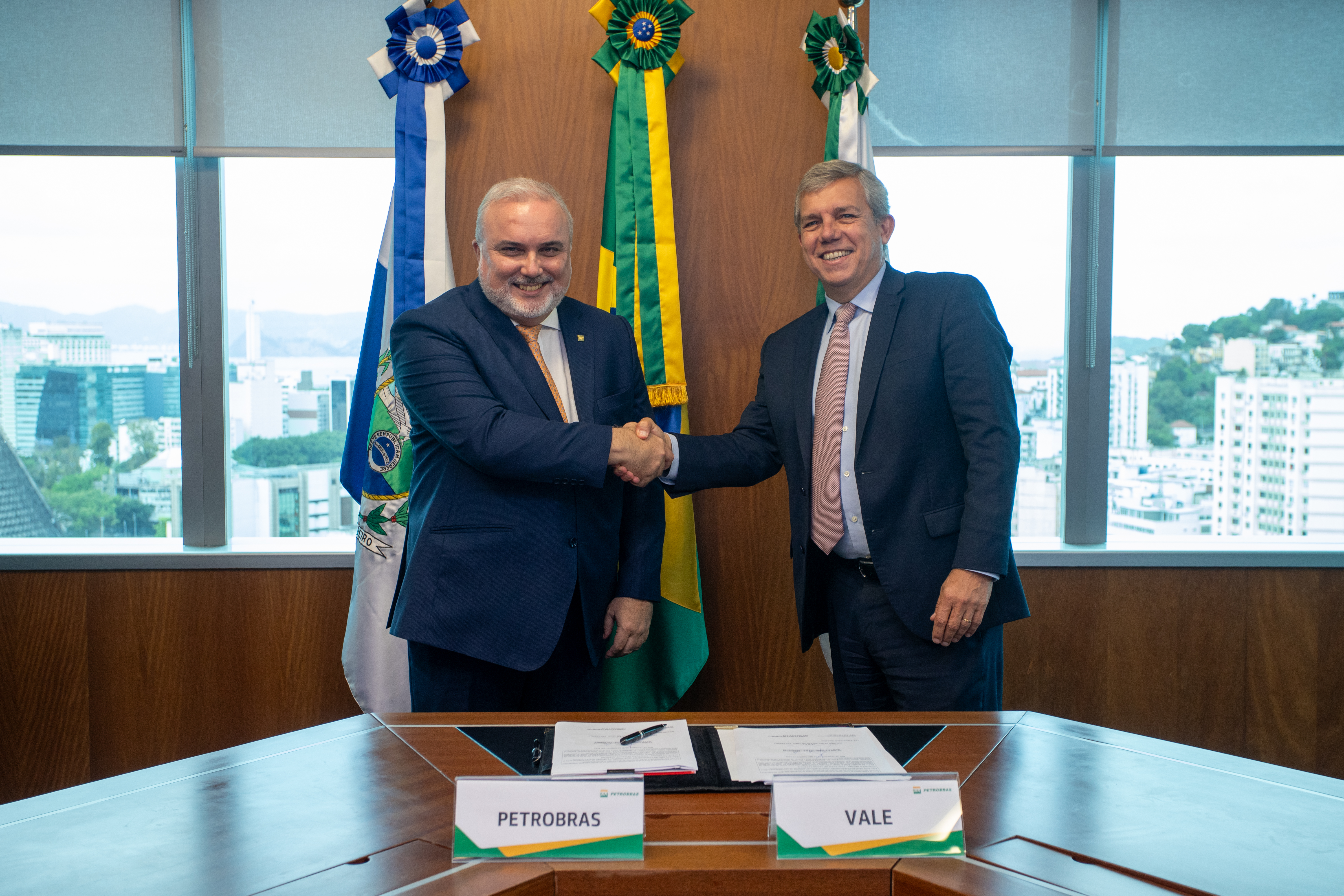 Petrobras president, Jean Paul Prates (at left), and Vale CEO Eduardo Bartolomeo signed the protocol of intent

"Brazil has all the necessary conditions to lead a large-scale development of low-carbon solutions and renewable fuels, such as green hydrogen and green methanol. Vale is firmly committed to reducing its carbon footprint and wants to be a protagonist in this journey, leveraging relevant actions for the energy transition in Brazil. This agreement with Petrobras fits perfectly into this context," said Eduardo Bartolomeo, Vale's CEO.

"Petrobras' partnership with Vale will be strategic in driving the country's energy transition. These are the two biggest Brazilian powers joining forces around a common purpose: to develop the most modern solutions to reduce greenhouse gas emissions," said Petrobras' president, Jean Paul Prates. "We are going to leverage the production capacity, logistical structure and technological expertise of two national giants to boost the production and supply of more efficient and sustainable fuels. This is what we can call being a first mover to materialize our decarbonization strategy, creating demand and scale for low-carbon solutions," he added.

This partnership can help Vale achieve its commitment to reduce its absolute scope 1 and 2 emissions by 33% by 2030 and achieve neutrality by 2050, in line with the Paris Agreement.

About Petrobras

Petrobras is a Brazilian company and one of the largest oil and gas producers in the world, mainly dedicated to exploration and production, refining, energy generation and marketing. Petrobras has expertise in exploration and production in deep and ultra-deep waters as a result of almost 50 years of developing Brazil's offshore basins, leader worldwide in this segment. The company´s priority is to operate at low costs and with low carbon emissions, reinforcing its commitment to sustainable development for a just energy transition in Brazil. Petrobras' ambition is to neutralize emissions (scopes 1 and 2) in the activities under its control by 2050.
Our commitment to repairing the communities and people impacted by the B1 dam failure is constant. See the social, environmental and safety actions taken by Vale.
Foto: