Vale e BNDES firmam parcerias em iniciativas socioambientais no Norte e Nordeste
Vale e BNDES firmam parcerias em iniciativas socioambientais no Norte e Nordeste
Empresas investirão R$ 108 milhões em ações nas iniciativas Garante Amazônia e Juntos pela Saúde
A Vale e o Banco Nacional de Desenvolvimento Econômico e Social (BNDES) anunciam a celebração de dois protocolos de intenção voltados para a região Norte e Nordeste do país: o Programa de Garantia a Crédito para Bioeconomia na Amazônia (Garante Amazônia) e a iniciativa Juntos pela Saúde. As duas empresas aportarão R$ 108 milhões nas duas ações, que preveem a promoção da saúde básica e o estímulo à economia sustentável nessas regiões. A mineradora é a primeira parceira a aderir às ações e aportará R$ 20 milhões no Garante Amazônia e R$ 34 milhões no Juntos pela Saúde, com contrapartida de igual valor feita pela banco. O anúncio ocorreu hoje (10/11) durante evento na Conferência da ONU sobre Mudanças Climáticas, a COP 27, em Sharm El Sheikh, no Egito.

O montante a ser destinado ao Garante Amazônia servirá de lastro para garantir financiamentos a atividades florestais sustentáveis na região Norte do País. Já os recursos para o Juntos pela Saúde serão empregados no fortalecimento da atenção primária nos municípios do entorno das operações da Vale no Pará e no Maranhão, com a expansão da experiência exitosa do projeto Ciclo Saúde Proteção Social, da Fundação Vale.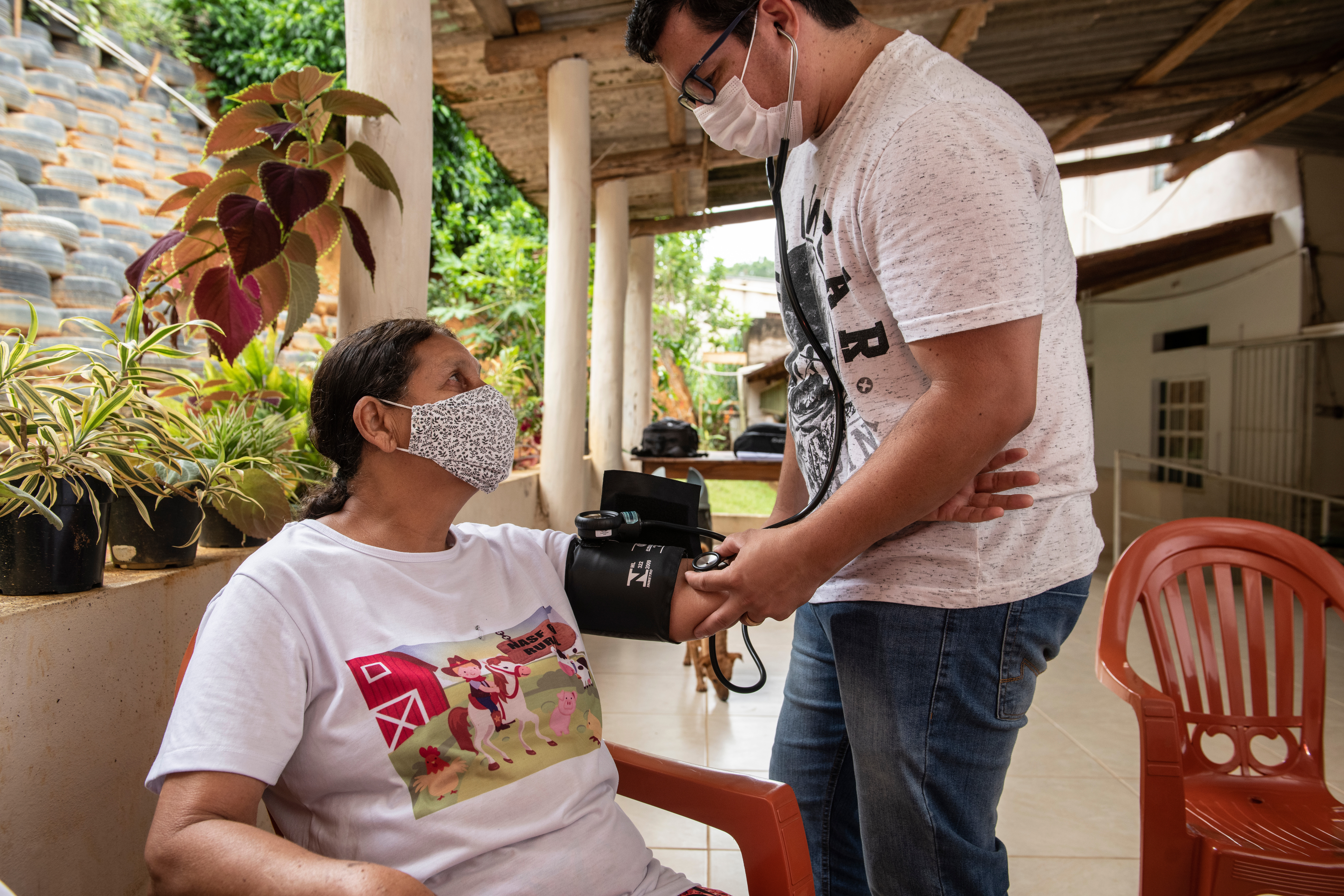 Profissional do projeto Ciclo Saúde Proteção Social, da Fundação Vale, mede pressão de idosa; objetivo do programa é promover a saúde básica. Foto: Nilmar Lage
No Garante Amazônia, a participação da Vale se dará por meio do Fundo Vale, entidade sem fins lucrativos controlada e mantida pela mineradora para impulsionar soluções de impacto socioambiental positivo que fortaleçam uma economia sustentável, justa e inclusiva. Os recursos não reembolsáveis do programa serão utilizados no apoio à prestação de serviços de assistência técnica e extensão rural associados à execução das atividades financiadas com garantia do programa.
Na concessão de garantias, o Garante Amazônia será destinado a agricultores familiares, empreendedores familiares rurais, aquicultores, pescadores, comunidades tradicionais, assentados da reforma agrária e povos indígenas, além de associações ou cooperativas que reúnam esses pequenos produtores. Os financiamentos a serem garantidos através do programa serão concedidos por instituições financeiras parceiras, que, assim como ocorre nas operações indiretas do BNDES, ficarão responsáveis pela análise de crédito dos empréstimos.

O Garante Amazônia e o Juntos pela Saúde são iniciativas com estratégia de incentivo à participação de doadores privados por meio do qual o Banco dobra o valor de qualquer outra doação. A estimativa para o Garante Amazônia é que sejam alavancados investimentos de mais de R$ 120 milhões em atividades de bioeconomia florestal na região Norte, o que contribuirá para o aumento da produtividade de milhares de famílias. Já o Juntos pela Saúde busca reunir R$ 200 milhões em recursos não reembolsáveis (R$ 100 milhões do BNDES), que serão aplicados em tecnologia e equipamentos para ampliar o acesso da população brasileira à saúde, além de melhorar a prestação dos serviços do SUS nas regiões Norte e Nordeste — principalmente por meio do fortalecimento da atenção primária.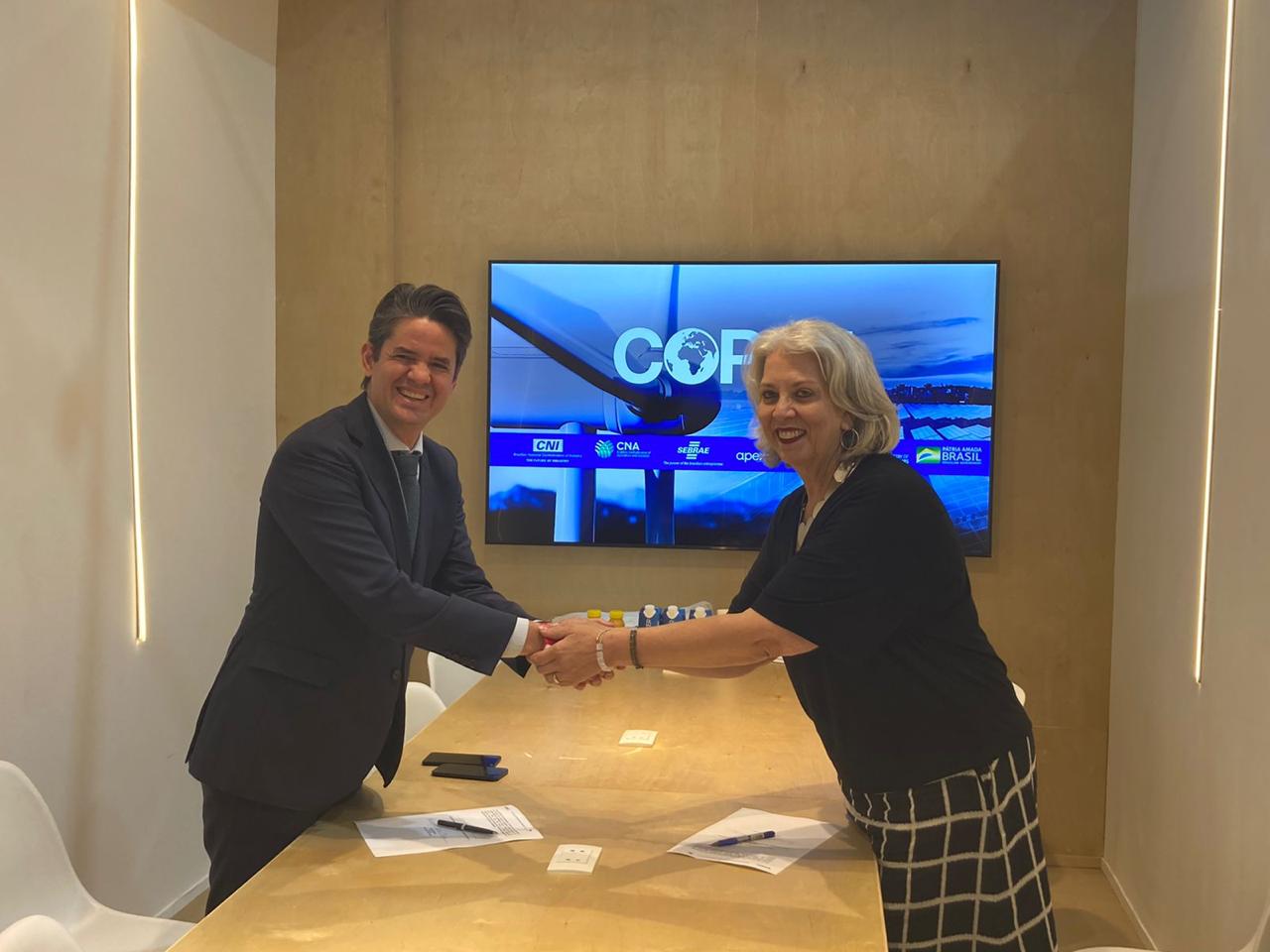 Maria Luiza Paiva (Vale) e Bruno Aranha (BNDES) assinam os protocolos de intenção do Garante Amazônia e do Juntos pela Saúde, durante reunião na COP 27, no Egito
Para o diretor de Crédito Produtivo e Socioambiental do BNDES, Bruno Aranha, "o Banco e a Vale demonstram mais uma vez a força e a importância do trabalho conjunto para garantir melhores condições de forma direta aos que mais necessitam". O executivo explica que, no Juntos pela Saúde, buscou-se atender os chamados "vazios assistenciais", ou seja, "levar saúde onde ainda há uma deficiência ou inexistência de atendimento, tendo como meta atender mais de 2 milhões de pessoas no Norte e Nordeste". "Já com o Garante Amazônia também buscamos esses 'vazios', mas de crédito e assistência técnica", completa Aranha.

Para a Maria Luiza Paiva, vice-presidente executiva de Sustentabilidade da Vale, as duas iniciativas atuam na ponta da cadeia social e visam construir comunidades mais resilientes. "O Juntos pela Saúde vai ajudar no fortalecimento da atenção básica de saúde nos municípios, uma área indispensável para a garantia de acesso a direitos fundamentais. Já o Garante Amazônia vai beneficiar o desenvolvimento de pequenos produtores da região, que muitas vezes não conseguem ter acesso fácil a créditos. A parceira com o BNDES é fundamental neste trabalho, mas é só começo. A ideia é atrair mais empresas para que possamos escalonar essas iniciativas", afirma Maria Luiza.

Floresta Viva
Além do Garante Amazônia e do Juntos pela Saúde, a Vale participa com o BNDES e outras empresas do matchfunding Floresta Viva, lançado no ano passado na COP 26, em Glasgow. O BNDES aportará R$ 250 milhões na iniciativa Floresta Viva fase e parceiros privados já se comprometeram, até o momento, com mais R$ 440 milhões. O projeto irá se desenvolver ao longo de sete anos e a expectativa é reflorestar entre 16 mil e 33 mil hectares com espécies nativas e biodiversidade, podendo capturar cerca de 9 milhões de toneladas de CO2 equivalente.
Our commitment to repairing the communities and people impacted by the B1 dam failure is constant. See the social, environmental and safety actions taken by Vale.
Foto: